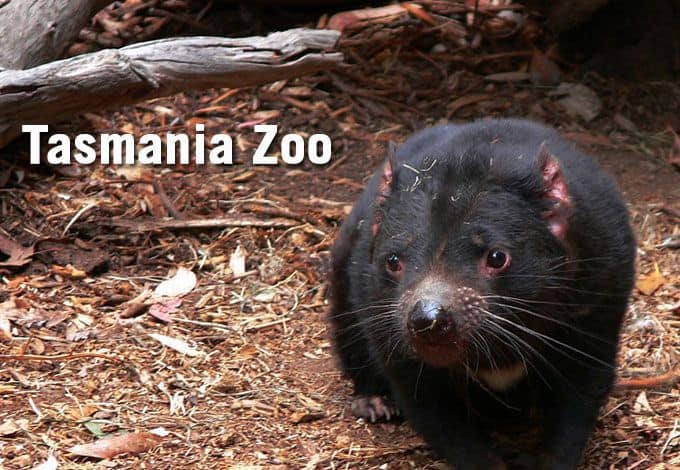 The whole world knows of the island thanks to a single animal – the Tasmania Devil. And the Tasmanian Zoo has more than a few of the gorgeous little beasts waiting for you to come and visit them.
Of course, if you are thinking about heading down to Tasmania and checking the zoo, or if you're already in Tasmania, you'll want to know what the cost will be to get in.
Here are the current entry prices for Tasmania Zoo:
Tasmania Zoo Prices
Age
Price

Entry Ticket

Children (2-15)
$17.00
Adult (16+)
$29.50
Seniors (valid ID required)
$26.00
Students (valid ID required)
$26.00
Price Updates
June 2018 – Prices have not changed since Aug 2017.
On top of the awesome rates you see in the table above, there are further discounts for those on school tours, coming from childcare centres, or any standard educational facility.
Taking a tour on a bus across Tasmania? Lucky you, they have discounts set up and ready to go for the whole bus as well.
*They accept all forms of payment except for American Express and Diners Club.
About The Zoo
One of their main selling points and we've no doubt you'll be sold on it – is that Tasmania Zoo is the only zoo in Tasmania to be fully accredited. They also have the largest collection of Tasmanian natives in the states.
You'll find the zoo situated in the Northern part of the island, around 10km west of Launceston. From Hobart, it'll take you around 2 hours and 30 minutes to drive up there. It's well worth it.
Unlike other zoos, it looks like Tasmania Zoo, unfortunately, doesn't offer membership for extra keen visitors. So if you are looking to check out the exotic animals quite regularly, you're going to have to pay the entry price each time.
Of course, visit enough and you'll likely become friends with the workers. Hell – you could even get yourself a job there if you're that keen!
Just recently, in July 2017, the first of the endangered species of Red Panda arrived at the zoo. There are plans to rejuvenate the species and bring them back up to a healthy population.
Altogether, Tasmania Zoo houses a massive 1000+ invidual animals, spanning 100 species. Parrots, reptiles, cats, monkeys, mammals, and more. A full list can be found on their website (link below).
Facilities
Picnics
The Zoo itself has much more than simply animals to keep you entertained for the day. You're more than welcome to bring along your own picnic and take full advantage of the wonderful Australian bush setting.
They even have a specific area of the zoo set aside for picnics and BBQs. Perfect to take a midday break and let the kids run around for a bit.
Cafe
Feeling a little famished are taking in the animals?
No problem. Head to Meerkat Munchies cafe and top up your tank with a vast selection of hot/cold delights and beverages.
Gift Shop
No zoo is complete without their very own gift shop. And with each zoo in the world being entirely unique from one another, the souvenirs you'll find in each of their gift shops follow suit.
The gift shop is Tasmania Zoo is jam-packed to the top with a huge range of merchandise. Magnets, caps, stuffed toys, postcards, T-shirts, postcards, and more. You name it – they've got it.
This is the perfect place to pick up something small for your friends back home. Who wouldn't love a little Tasmania Devil plush toy?
Just look how adorable that is!
Reviews
As we like to do, we took to the internet to see what a few people had to say about their experience.
Their Google review listing had plenty to choose from and it was tough to only choose a few. But we doubled done and got the job done.
Here are a few that we found:
Amazing day out .. close and interactive with animals..well worth a visit..dinosaur enclosure very well done….entry admission affordable…surprised to find out no government help…
HIGHLY RECOMMENDED – Kathy Hinton

Was pleasantly surprised how large the zoo is. It has a variety of Animal and reptiles and the zoo keepers are really knowledgeable. Meerkats would have to be my favorite. – Tris Long

Tassie Devil feeding good to watch. Can get nice and close to most animals. Can interact with the baby animals. Loved the Meerkats. Good private zoo that needs us to keep coming so they can keep improving. – Darrel Reiser
A Good Day Out
There you have it, ladies and gentleman, now all that's left to do is go and visit the exquisite Tasmania Zoo.
As you've seen at the beginning of the article, entry prices into the zoo itself are quite reasonable. And we're quite positive you'll walk out (if your legs can still carry you) feeling you definitely got your money's worth.
If you have any questions about their prices, please let us know in the comments below.
For further information, please visit their official website.
Disclaimer
We are not affiliated with the above goods/service/organisation in any way. Prices should only be used as a guide.