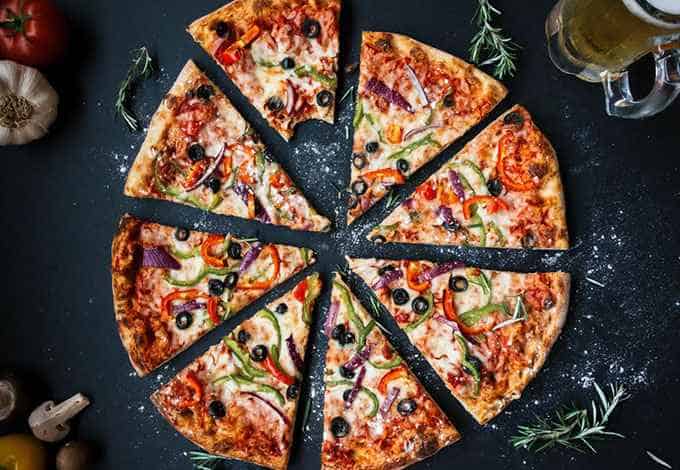 Domino's has taken Australia by storm over the past few years. The Domino's menu features a range of delicious pizzas at a very affordable price.

Here is the 2019 Domino's menu with prices in Australia:
Menu Item
Price

Value Range Pizzas

Simply Cheese
$5.00
Cheesy Garlic Pizza
$5.45
Pepperoni
$5.45
Beef & Onion
$5.45
Spicy Veg Trio
$5.00
Ham & Cheese
$5.45
Margherita
$5.00

Traditional Pizzas

Chipotle Steak
$13.75
BBQ Steak & Bacon
$13.75
Loaded Pepperoni
$7.95
Chipotle Steak
$13.75
Philly Cheese Steak
$13.75
Avocado Veg
$13.55
Fire Breather
$13.80
Vegorama
$13.85
Godfather
$13.15
Hawaiian
$12.95
Double Bacon Cheeseburger
$13.95
Supreme
$13.95
BBQ Meatlovers
$13.75

Premium Pizzas

Reef, Streak & Bacon
$17.15
Garlic Chicken & Bacon Ranch
$16.55
Loaded Supreme
$16.95
Chicken, Bacon & Avocado
$16.65
Mega Meatlovers
$16.55
Chicken & Camembert
$16.95
Peri Peri Chicken
$15.95
Garlic Prawn
$16.55
BBQ Chicken & Rasher Bacon
$16.95

New Yorker Range

The Big Philly Cheese Steak
$20.95
The Big Cheese
$17.95
The Big Pepperoni
$18.95
The Big Ham & Pineapple
$19.95
The Big Pepperoni & Sausage
$19.45
The Big Pepperoni, Sausage & Mushroom
$19.95
The Big Three Meats
$19.95
Half N' Half
$20.95

Oven Baked Sandwiches

Philly Cheese Steak Sandwich
$8.95
6 Meats Sandwich
$8.95
Chicken, Bacon & Avocado Sandwich
$8.95

Sides

Garlic Bread
$3.95
Chunky Cut Chips
$5.00
BBQ Chicken Meatballs
$5.00
Cheesy Garlic Bread
$5.00
Chicken Tenders (3 pack)
$6.95
Chicken Tenders (5 pack)
$8.95
Korean Sticky Wings (5 pack)
$7.15
Korean Sticky Wings (10 pack)
$12.95
Chicken Kickers (5 pack)
$7.15
Chicken Kickers (10 pack)
$12.95
Oven Roasted Chicken Wings (5 pack)
$7.15
Oven Roasted Chicken Wings (10 pack)
$12.95
Creamy Ranch Chicken Wings (5 pack)
$5.95
Creamy Ranch Chicken Wings (10 pack)
$10.95

Drinks

Espresso Thickshake
$5.95
Espresso Thickshake with Cream & Sauce
$6.95
Malted Vanilla Thickshake
$5.95
Malted Vanilla Thickshake with Cream & Syrup
$6.95
Salted Caramel Thickshake
$5.95
Salted Caramel Thickshake wtih Cream & Syrup
$6.95
375ml Soft Drink
$2.60
3 x 375ml Soft Drink
$5.00
1.25L Soft Drink
$4.95
600ml Water
$3.00

Desserts

Hot Choc Fudge Brownies (6 pack)
$5.95
Mini Choc Sundae (1)
$2.95
Mini Choc Sundae (2)
$5.00
Mini Choc Sundae (6)
$9.95
Oven Baked Churros (4 pack)
$5.95
Oven Baked Churros (12 pack)
$11.95
Choc Lava Cake
$5.00
Mini Dutch Pancakes (12 pack)
$3.95
Salted Caramel Chocolate Mousse
$3.95
Dessert Sampler Pack
$10.25
Chocolate Dipping Sauce
$0.50

Additional Toppings

Anchovies
$2.00
Sliced Avocado
$2.00
Rasher Bacon
$2.00
Ground Beef
$2.00
Indian Butter Sauce
$1.00
Seasoned Chicken
$3.00
Camembert Cheese
$3.00
Capsicum
$1.50
Mozzarella Cheese
$2.00
Sweet Cherry Peppers
$2.00
Chilli Flakes
$0.00
Chorizo
$2.00
Feta
$2.00
Fire Roasted Peppers
$2.00
Garlic Sauce
$1.00
Cherry Tomato
$2.00
Cherry Wood Smoked Leg Ham
$2.00
Hickory BBQ Sauce Swirl
$1.00
Hollandaise Sauce Swirl
$100
Late Harvest Jalapenos
$2.00
Mayonnaise
$1.00
Mushrooms
$2.00
Olive
$1.50
Red Onion
$1.50
Oregano
$0.00
Pepperoni
$2.00
Peri-Peri Sauce Swirl
$1.00
Pineapple
$2.00
Pork & Fennel Sausage
$2.00
Prawns
$3.00
Steak Strips
$3.00
Italian Sausage
$2.00
Baby Spinach
$2.00
Spring Onion
$0.50
Fresh Tomato
$1.50
Tomato Capsicum Sauce Swirl
$1.00
Menu Updates
6 June 2019 – Prices have increased across the board for all pizzas at Dominos varying between $0.10 to $1.00.
31 January 2019 – Updated & revamped the whole menu. Added new pizzas to Premium, Traditional, and New Yorker Range and improved accuracy of the overall menu.
27 November 2018 – New pizzas added to menu – Korean BBQ Steak and BBQ Steak & Bacon.
14 November 2018 – Added Creamy Ranch wings to menu starting at $5.95 for pack of 5 wings.
Best Pizzas on the Domino's Menu
Their menu is quite diverse, which can make choosing the pizzas you want, which extra toppings you're going to get, and what side you'll be having to accompany your pizza, a difficult decision.
If we're talking in total number of sales, the traditional Hawaiian and Supreme Pizzas would definitely top the list. There's no denying, those two pizzas are the classics – and you can almost be certain that most Aussie families have ordered them in at least once in the past year.
Want to get a bit more exotic? The Peri Peri Chicken and the Chicken & Camembert pizzas both have unique flavours that'll leave you wishing there was always one more piece to go.
Domino's Dessert Menu
Domino's have had a dessert menu for quite a while, and it's actually been one of the best compared with some of the other fast food menus in Australia like the KFC menu or the McDonald's menu.
Similar to their innovations in their store operations and ordering functions, they've consistently aimed to refine and perfect all the delicious goodies on their dessert menu. In saying that, there's probably a single item which has always remained on their menu, and it's their most famous dessert.
The chocolate lava cake.
It's such a prominent dessert item, that there's a whole Pinterest page dedicated to replicating its fluffy goodness. One reviewer on Tripadvisor even wrote:
I've tried so many chocolate lava cakes in the world and my personal favourite is still the one from domino's pizza.
I can't speak for many of the other lava cakes in the world, but many agree that the one at available on the Domino's menu is bloody delicious. Always a good way to end a meal of pizzas.
There are plenty of other sweet items on the dessert menu (which you can find above), and there'll be plenty more being added to it in the years to come.
Just like their newly released – Chocoholic Dessert Pizza – 1800 calories of chocolate delight. If you can get past the robot voice, this video is actually a pretty good overview of what it is:
How Much Does Domino's Delivery Cost?
Depending on your pizza order, requested delivery time, and distance from shop, delivery prices can range between $5 – $15.
Ahh, good old Domino's delivery. Millions of Aussie know the pleasure of calling them up, visiting their website, or ordering through their app to get some fresh pizzas delivered straight to your front door.
It's certainly hard to beat a late night pizza with a few friends or even one for yourself, and you can get one delivered in no time with a little extra cost on top.
For accurate delivery pricing, give your local store a call or head online. You can find their contact information a bit further below on the page.
On a side note – check out what Domino's has planned one version of the future of its delivery service:
Domino's Vouchers And Deals
Ah yes, the now-more-than-ever famous Domino's vouchers. Thankfully, you don't have to stray very far to get your hands on some money-saving coupons.
The easiest and fastest way to get the latest deals for Dominos, is to visit Domino's official vouchers page.
If you want to get notified when new vouchers are released, sign up to their regular newsletter.
Most of the time all they send out is coupons and you can easily unsubscribe if you're all pizza'd out.
About Domino's Pizza Australia
Officially started in 1960. A fella by the name of Tom Monaghan and his brother, James, bought a local pizza chain by the name of DomiNick's in Ypsilanti, Michigan.
The brothers experienced great success in their local pizza shop (thanks to many of the university students nearby and went on to purchase of another two pizza shops in the next 5 years.
In that fifth year, after returning from a delivery, one of their drivers – Jim Kennedy – made the simple suggestion of renaming their shops to Domino's. The brothers loved it, committed to the change, and officially renamed to Domino's Pizza, Inc. in 1965. And so, the now famous Domino's menu was born and shipped around the world.
Domino's first broke international borders following their move into Canada and Australia in 1983. Two years later, our British friends were indulging in their first bites of Domino's.
As you know, borders have kept on being broken over the years, and 2016 saw their 1,000th store open in India alone. Today, the USA has more than 5,500 stores, Australia has around 700 stores, and all across the world, Domino's serves up their pizzas at more than 15,000 locations. Incredible.
They've come a long way since their humble beginnings and now employ nearly 300,000 workers around the world.
Pizza was just the beginning on this fast food franchises global domination.
As have a number of fast food menus in Australia such as the Subway menu or the Hungry Jacks menu, the Domino's menu you see here has come a long way from just serving pizzas.
On top of their highly efficient pizza production lines, their stores serve up additional hunger killer's such as garlic bread, chicken kickers, oven roasted chicken wings, meatballs, and a range of desserts for those with a sweet tooth.
You can expect that list to continue to be dynamic over time. Domino's love to innovate are continuously experimenting with new food items looking for the next big hit.
February 2018 saw one of their latest experiments hit their stores – the oven baked sandwiches. Choose from Ham & Cheese, 6 Meats, Chicken & Gravy, Chicken Bacon & Avocado, or Crispy Bacon & Sausage. These will set you back around $9. Check the table above for more accurate pricing of these menu items.
Based on their recent innovations (drone and robot pizza deliveries), it's unlikely anyone besides Domino's themselves knows what in-store in the next 5 years.
What can be said, though, is that it'll be quite exciting to see how they take advantage of new technologies and bring our pizza eating experiences to the next level. VR pizza anyone?
Of all the fast food chains in Australia, Domino's are definitely aiming to be one of the most open and transparent. If you'd like to get in touch with them about the Dominos menu or the prices of their pizzas, social media is the way to go:
If you're not on any of them, or would like to speak to a real person, give them a call on 131 888. Otherwise, find the closest store to you, then call them directly with any questions or feedback you have.
Conclusion
All in all, Domino's has grown to become a pizza powerhouse in Australia. It's been able to do so by continuously expanding their menu whilst maintaining extremely competitive prices for their pizzas.
It'll be exciting to see how the Australia's pizza landscape will evolve in the near future and where Domino's will end up.
If you have any further questions about the Domino's menu or its price, chuck them in the comments below.
Disclaimer
We are not affiliated with the above goods/service/organisation in any way. Prices should only be used as a guide.