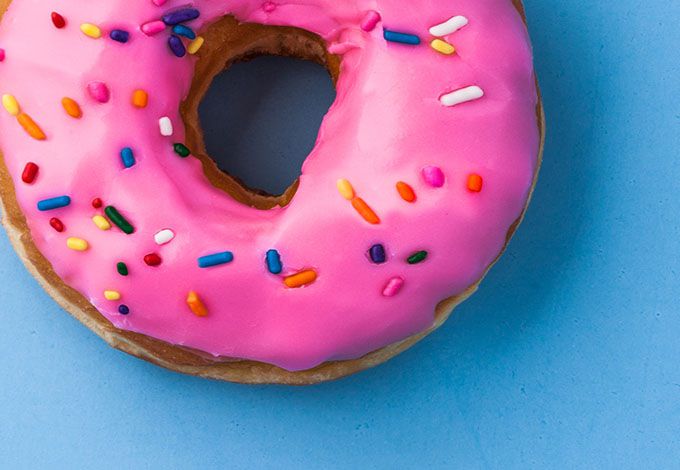 Krispy Kreme and their deliciously glazed doughnuts have made their way into the mouths of millions of Aussie. Thousands of doughnuts are sold from their menu everyday – but at what cost?
Here are the prices for their donuts and full menu at Krispy Kreme and 7-11 stores in Australia:
Menu Item
Price

Krispy Kreme Stores

Doughnuts

Original Glazed & Traditional (each)
$2.50
Original Glazed & Traditional (6 pack)
$13.95
Original Glazed & Traditional (12 pack)
$17.95
Assorted Doughnuts (each)
$3.00
Assorted Doughnuts (6 pack)
$15.95
Assorted Doughnuts (12 pack)
$23.50
Signature Pack (24 original)
$29.50
Sampler Pack (12 original & 12 assorted)
$32.50

Cold Drinks

Milkshakes (regular)
$4.00
Milkshakes (large)
$5.00
Thickshakes (regular)
$5.00
Thickshakes (large)
$6.00
Frappes
$4.75
Soft Drink
$3.60
Juice
$3.50
Iced Tea
$4.20
Sports Water
$4.20
Energy Drink
$4.20
Mt Franklin
$3.20
Pump
$3.95

Hot Drinks

Coffee (regular)
$3.50
Coffee (large)
$4.00
Coffee (max)
$4.50
Hot Chocolate (regular)
$3.50
Hot Chocolate (large)
$4.00
Hot Chocolate (max)
$4.50
Mocha (regular)
$3.65
Mocha (large)
$4.15
Mocha (max)
$4.65
Chai Latte (regular)
$4.00
Chai Latte (large)
$4.50
Chai Latte (max)
$5.00
Short Black
$2.50
Tea
$3.00

7-11 Stores

Doughnuts

Original Glazed & Traditional (each)
$2.75
Assorted Doughnuts (each)
$3.25
4 Pack (mixed)
$11.00
12 Pack (mixed)
$23.00

Online Orders

Original Glazed & Traditional (12 pack)
$19.95
Original Glazed & Traditional (12 pack)
$24.95
Double Pack (12 original & 12 assorted)
$35.92
Pick Your Own (12 pack)
$26.95
Traditional Cinnamon (12 pack)
$19.95
[ps2id id='1′ target="/]Are their doughnuts expensive?
Relatively, many would say yes – Krispy Kreme's doughnuts are quite expensive.
For example, you could head to Coles, Woolworths, or any other local grocery store, and pick up a 12 pack of regular cinnamon doughnuts for under $5.
In saying that, the quality of doughnut you'll be receiving from Krispy Kreme versus the grocery store is astronomically different.
Krispy Kreme's main product is their doughnut. They built their business on their doughnut. And they now serve their doughnuts all across the world. So take it from how popular they are, they make good doughnuts.
All in all, it just depends on your preferences, what type of doughnut you're after, and how much you're willing to pay for that doughnut.
If you want a premium selection with high quality ingredients – Krispy Kreme's for you.
Otherwise, if you're thinking about saving a bit of money and are just after the doughnut texture, head to the grocery store.
Sold on Krispy Kreme? Fantastic. But which type of doughnut do you buy?
[ps2id id='2′ target="/]What's the most popular item on their menu?
With the huge range of doughnuts and different types of toppings to choose from, it can be a difficult decision to actually decide which one to get once you're there.
So it may be worthwhile to know which doughnuts are already the most popular among other Aussies – saves you from picking the ones that aren't so good.
As you may have guessed, the Original Glazed doughnuts is, by far, the most popular doughnut on their menu. Coming in at the lowest price as well – it's certainly a winner. You could walk away with one today for just $2.50 at your local Krispy Kreme store.
Next of the top rated is their Choc Iced Sprinkles. It's the Original Glazed, topped in a coating of delicious chocolate, then covered in sprinkles. Yum.
Coming in at a solid third place is the Kookies & Kreme variety. Covered in a glaze, dipped in a white chocolate truffle icing, topped with some of the finest chocolate biscuit crumbs, and finished with a light white chocolate truffle drizzle.
None of this information is good, however, if you don't know where to buy them.
[ps2id id='3′ target="/]Where can you buy Krispy Kreme doughnuts?
Krispy Kreme have stores in Perth, Melbourne, Sydney, Brisbane, and the Gold Coast. There are Krispy Kreme shops in South Australia, but it's officially run other another business. Don't ask us why – we don't know.
If you are in one of the five other cities though, you'll most likely find one of their doughnut stores in and around the CBD area. Otherwise, head to this page to find a Krispy Kreme closest to you.
Already know there aren't any stores close by? Don't give up on the search just yet.
Krispy Kreme have partnered with 7-11 – allowing them to sell their doughnuts at their service stations across hundreds of more locations around Australia. And there are plenty to choose from.
Here's how many 7-11's sell their doughnuts in each state:
NSW – 232
VIC – 237
WA – 35
QLD – 178
Big numbers. Find the one closest to you by visiting this page.
[ps2id id='4′ target="/]A bit about Krispy Kreme in Australia
Following their massive success growing their doughnut shops all across the United States, the Krispy Kreme corporation chose Australia as their first point of international expansion.
It was the year of 1937, just 5 years after the opening of the Harbour Bridge, when Sydney-siders started waking up to the smell of freshly baked Krispy Kreme doughnuts nearby.
Over the many years to come, another 53 stores would open across the country.
Fast forward more than a few years, and the Australian arm of the global doughnut corporation hit dire straits with the company going into voluntary administration in late 2010. Maybe their menu prices were just a bit too high, leading to poor sales throughout.
It didn't last, though. The doughnut store was back on its feet after just 2 months, and continues strongly today.
If you'd like to know more about Krispy Kreme's prices of their doughnuts or anything else on their menu, let us know in the comments below.
Otherwise, please visit their official website for more information.
Disclaimer
We are not affiliated with the above goods/service/organisation in any way. Prices should only be used as a guide.