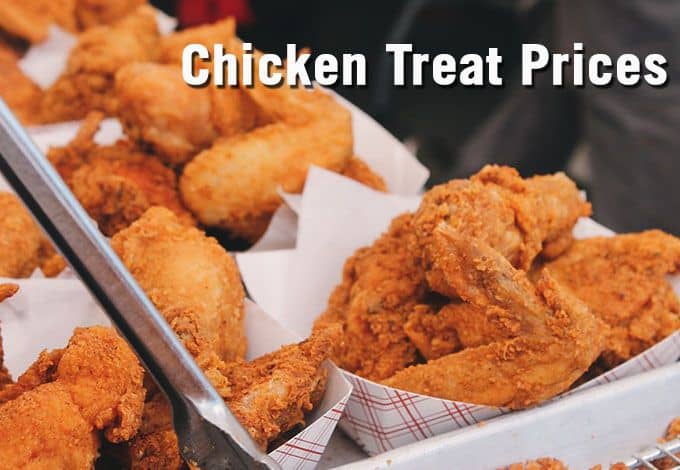 Chicken Treat is a national fast-food restaurant in Australia currently operating in two states – Western Australia and Queensland. However, the vast majority of their store locations are in WA at the moment.
As such, the menu prices you'll find below are a more accurate representation of their stores in WA. Please contact your local Chicken Treat if you reside in Queensland and wish to find out their prices.
With that being said, here are Chicken Treat's Menu Prices:
Menu Item
Price

Burgers & Wraps

Tempta Burger
$9.99
Tempta Burger Combo
$11.99
Tempta Double Burger
$10.99
Tempta Double Burger Combo
$14.99
Tempta Slaw Burger
$9.99
Tempta Slaw Burger Combo
$11.99
Tempta Slaw Double Burger
$10.99
Tempta Slaw Double Burger Combo
$14.99
Fresh Wrap Combo
$10.49
Beef Roadhouse Combo
$11.59
Chicken Roll Combo
$10.49

Add cheese for $0.50. Add bacon for $1. Upgrade to a large drink & chips for $2.50

Fried Chicken

Crunchified Chicken - 1 piece
$2.89
Crunchified Chicken - 5 piece
$12.49
Crunchified Chicken - 9 piece
$17.99
9 Piece Feast - 9 pce chicken, 2 large chips, large coleslaw, large mash & gravy
$26.99
Variety Fest - 6 pce chicken, 3 monster nuggets, 6 chicken twists, 2 large chips, 2 dipping suaces
$20.99

Add 1.25L drink for $3.19

Rotisserie Chicken

1/4 Chicken & Chips Combo
$10.29
1/2 Chicken & Chips Combo
$13.29
1/4 Hawaiian Combo
$12.29
1/2 Hawaiian Combo
$15.29
Family Roast - whole chicken, roast potatoes, large peas, large gravy
$19.99
Chicken Favourite - whole chicken, 2 large chips, garlic bread, large gravy
$22.99

Snacks

Loaded Chips (cheezy bacon, chicken & gravy, cheezy spicy)
$6.99
Roadies (chicken twists, cheezy bacon Loaded chips, chicken strips, monster nuggets, tempura battered bananas with caramel sauce)
$3.99
Cheeseburger
$2.00
Chicken Bacon Cheeseburger
$3.69
Pineapple Fritter
$2.00
Dipping Sauce
$0.85

Sides

Chips (regular)
$3.39
Chips (large)
$4.39
Chips (monster)
$7.39
Garlic Bread
$3.59
Corn
$2.39
Gravy (small)
$3.19
Gravy (large)
$4.69
Coleslaw (small)
$3.49
Coleslaw (large)
$5.99
Mash & Gravy (small)
$3.39
Mash & Gravy (large)
$4.89
Peas (small)
$3.39
Peas (large)
$4.99

Drinks

390ml Softdrink
$3.39
600ml Softdrink
$4.29
1.25L Softdrink
$5.39
600ml Water
$3.39
350ml Juice
$3.39
600ml Flavoured Milk
$4.29

Desserts

Vienneta
$6.10
Magnum
$3.99
Splice
$2.50
Bubble O' Bill
$2.50
Vanilla Cup
$1.50
Chocolate Mousse
$3.00
Cheesecake
$3.00
Price Updates
2 June 2018 – Quarter Chicken & Chips now available for $5 until 4pm DAILY.
Chicken Treat's History
Founded in 1976, Chicken Treat has become a major competitor in the fast food industry in Western Australia.
Today, they have more than 60 restaurants in the state. And, as mentioned earlier, they've recently opened two more locations in Central Queensland. Likely to test the waters for a potential national expansion.
As their name suggests, their main food focus is on providing high-quality chicken (both rotisserie and fried) and a low price.
However, due to the recent expansion of menu items by other fast-food chains including McDonald's, Dominos, and Hungry Jacks, Chicken Treat has had to follow suit.
As you can see from the table above, their menu is now diverse with plenty of options to choose from. More than enough to satisfy any hungry mouth which comes walking through their doors.
Just recently in 2015, the company attempted to increase their brand awareness through a campaign so unique, it's literally never been done before.
Betty The Chicken took over Chicken Treat's twitter account and started posting on the regular. The chicken would, quite literally, peck at the keyboard and (we're guessing) a team member would then post the tweet.
They gained around 8,200 followers from the stunt, and are also attempting to make into the Guinness World Records. Unfortunately, Chicken Treat hasn't made any comment as to whether this increase sales.
Today, the company has over 27,000 followers on their account, so they've definitely been doing something right! Hopefully, this will translate into some more awesome meals being put out soon.
From their website:
Chicken Treat maintains its uniqueness through the iconic animated "chicken", and takes immense pride in providing our customers with generously sized meals of slow cooked rotisserie chicken, Crunchified Chicken, Chicken Rolls and the newly launched range of Tempta Breast Fillet burgers.
Discounts & Specials
Fast Food in Western Australia is a fierce industry to be in at the moment. Which is why many people living in the state often receive page long coupons and deals for their local places.
Chicken Treat is no different. Every so often, if you're within a certain kilometre radius of one of their store locations, you'll receive one of their coupon brochures (so long as you don't have a 'no junk mail' sign).
If you aren't desperate to grab yourself some delicious Chicken Treat chicken right this instance, it's definitely worth handing out for one of these pages.
With that in mind, sometimes the delivery boy just forgot to deliver, or they somehow missed your place. Which is why the internet is a bloody blessing.
There are sites dedicated to providing you with information on all the latest coupons for your local fast food establishments. And lucky you, many of them have Chicken Treat included.
A few of the more popular ones include:
Lastly, you can always skip the run around and head straight to Chicken Treat's 'Promotions' instead. Visit it here.
Some of these deals may include discounts on combos (the regular chicken roll combo is often discounted) and the quarter chicken & chips – two of their most requested meals. And why shouldn't they be? They're bloody delicious!
Conclusion
All in all, if you're looking for some cheap, good food served up quickly, without lacking in the quality department, you won't go wrong with your local Chicken Treat.
You don't last more than 30 years in the fast-food industry without providing all of the above. And as you can see from their menu prices above, you're wallet won't be crying on the way home.
For more information, please visit their official website.
Disclaimer
We are not affiliated with the above goods/service/organisation in any way. Prices should only be used as a guide.