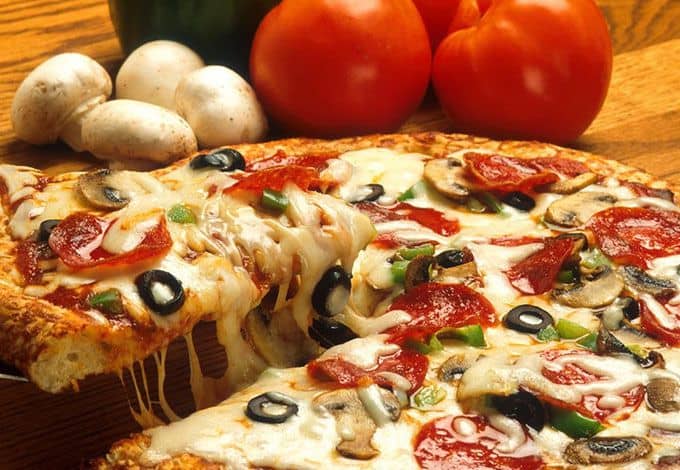 Looking for the Pizza Hut menu and prices? You've come to the right place. Find out the prices for all the pizzas on their menu as well as their sides, specials, and everything else they have.
Here's the latest Pizza Hut menu and prices in 2019:
Menu Item
Price

Classic Pizzas

Margherita
$7.95
Cheese Lovers
$7.95
Ham Lovers
$9.95
BBQ Cheeseburger
$13.95

Favourite Pizzas

Pepperoni Lovers
$9.95
BBQ Beef
$9.95
Hawaiian
$12.95
Veggie Sensation
$13.95
Smoky Chicken & Bacon
$16.95

Supreme Pizzas

BBQ Meatlovers
$12.95
Super Supreme
$12.95
Chicken Supreme
$13.95
Hot & Spicy Veggi
$13.95

Premium Pizzas

Tandoori Chicken
$18.95
Veggie Tandoori
$17.95
BBQ Mega Supreme
$19.95
BBQ Chicken
$16.95
Ultimate Hot & Spicy
$13.95
Butcher's Block
$17.95
Garlic Prawn
$16.95
Hot & Spicy Chicken
$16.95

Meals

Single WingStreet (1 Large Pizza, 6 WingStreet Wings)
$19.95
Family Triple Treat (2 Large Pizzas, 1 Hershey's Cookie)
$23.00
Double Hut (2 Large Pizzas, 1 Side, 1.25L Drink)
$29.95
Double WingStreet (2 Large Pizzas, 12 WingStreet Wings)
$34.95
Triple Hut (3 Large Pizzas, 2 Sides, 1.25L Drink)
$39.95
Party Hut (4 x Large Pizzas, 2 x Sides, 2 x 1.25L Drink)
$49.95
Triple WingStreet (3 Large Pizzas, 24 WingStreet Wings)
$54.95

Sides

Wings (6 pack)
$8.95
Wings (12 pack)
$14.95
Wings (24 pack)
$25.95
Garlic Bread
$4.45
Cheesy Garlic Bread
$5.45
Spud Bites
$3.95
Cheesy Spud Bites (8 pack)
$3.45
Triple Dippers (10 Cheesy Sticks, 4 Seasoned Chicken Wings and 8 Cheesy Spud Bites with 3 dipping sauces)
$9.95

Desserts

Hershey's Cookie (large cookie)
$7.95
Chocolate Lava Cake
$4.95
Chocolate Mousse
$4.45
Vanilla Ice Cup
$1.00

Drinks

375ml Soft Drink
$3.00
1.25L Soft Drink
$4.95
600ml Water
$3.00
Price Updates
2 February 2019 – Removed 600ml variations of soft drinks from menu. Now only 375ml cans and 1.25L are available.
14 January 2019 – Revamped and updated the entire Pizza hut menu. Prices for many items including pizzas and sides have all increased by $0.50 – $2.00.
29 December 2018 – Updated the family meals available on the menu.
How Much Does Pizza Hut Delivery Cost?
Rather get your pizza delivered from Pizza Hut instead? Not a problem – Pizza Hut Delivery's got you sorted.
Delivery from Pizza Hut will cost you $7.95 at a minimum. Check with your local store though – they may be running some special delivery promotions.
There is also a $19.90 minimum order amount for deliveries.
Pizza Hut UK made one massive statement with this unique ad about their pizza deliveries:
What's New On The Pizza Hut Menu?
Unlike Domino's, who've been trialling and testing new products quicker than the public can decide whether they like them or not, the Pizza Hut menu has remained quite steady over the years.
You've got your pizzas, drinks, wings, desserts (lava cake please), and a few sides.
Every now and then they do come out with a new menu item, but their marketing is nowhere near as extensive as Domino's (from what we've seen).
Check out their Facebook or Instagram page to get the latest info on their latest inventions.
About Pizza Hut
Two brothers in Wichita, Kansas, are the original founders of the now worldwide pizza franchise. Back in June of 1958, they opened their very first store serving up hot pizzas to anyone who ordered from the Pizza Hut menu.
Little did they know, their brand would grow to become one of the largest chains of restaurants in the world with nearly 14,000 location across the globe.
Today, most of the Pizza Hut stores are your standard pizza shops, just like Domino's or Crust. But there were a few that were quite different.
Those different Pizza Huts took on more of a Sizzler style structure. Operating as a traditional restaurant with a lunch buffet, serving up and all-you-can-eat range of pizzas, salads, delicious slices of bread, desserts, and pasta.
No One Outpizzas the Hut
Change is inevitable, unfortunately, and those style of Pizza Huts are almost completely extinct in Australia. Although a few remain around the world due to their nostalgic popularity.
Similar to the type of restaurant they are, they've also changed their logo a number of times throughout their 60+ year history in the pizza industry.
Recently, they've embraced the modern, flat design which many organisations are moving towards. Keeping things simple yet stylish and friendly at the same time.
Another brand who's recently changed their logo is Foxtel. They too went from an intimidating all-caps FOXTEL to an all-lowercase foxtel which much warmer colours. Definitely check it out if you're interested in that sort of thing.
The Pizza Hut Menu in Australia
Can you believe the Pizza Hut menu could be ordered from in Australia before the McDonald's menu was? Because it was! A whole year ahead of their big golden arch rivals.
The pizza chain opened up their first red-roofed iconic, all-you-can-eat store in Belfield, in Sydney's west. Unfortunately for that particular store, it was recently bulldozed in mid-2018 to make way for some high-rise apartments.
Hopefully, they'll soon be a Pizza Hut menu to order from on the ground floor for all the residents to enjoy!
Pizza Hut is still a significant way behind Domino's in terms of market share, however. Even with their recent takeover of all the Eagle Boy's locations, their market share only grew to around 35% of the pizza industry in 2016.
Quite a way behind Domino's strong position – holding nearly 50% of the pizza sales.
What's Next For Pizza Hut In Australia?
We'd love to see them head back to their more traditional buffet-style restaurants and see if they can continue to grow in that direction.
The $5 pizza war was great for our taste buds but allowed Domino's to pull out ahead in the market share game.
Only time will tell whether the Pizza Hut menu will be able to its position as one of the largest pizza chains in Australia and the world.
Disclaimer
We are not affiliated with the above goods/service/organisation in any way. Prices should only be used as a guide.