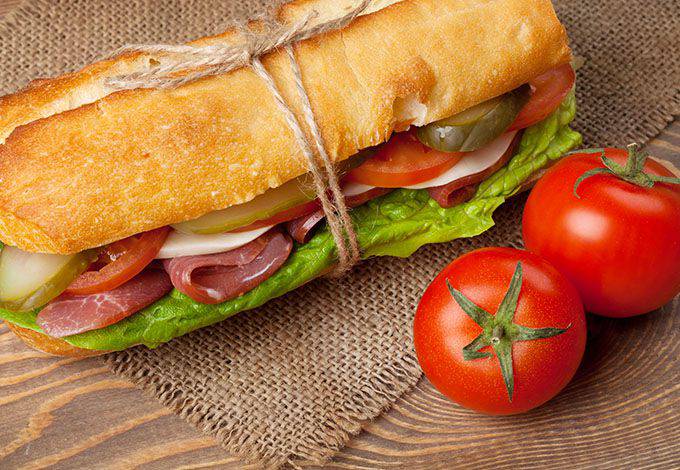 Subway is one of the healthiest and greatest value sandwich shops in Australia. Let's take a look at their menu and the pricing of their subs and platters.

Here is the 2019 Subway menu with prices in Australia:
Menu Item
Price

Signature Subs

Chicken Classic (6 inch)
$8.20
Chicken Classic (footlong)
$11.20
Meatball (6 inch)
$5.80
Meatball (footlong)
$8.95
Pizza Sub with Cheese (6 inch)
$5.80
Pizza Sub with Cheese (footlong)
$8.95
Seafood Sensation (6 inch)
$5.80
Seafood Sensation (footlong)
$8.95
Tuna (6 inch)
$7.95
Tuna (footlong)
$10.95
Italian BMT (6 inch)
$7.95
Italian BMT (footlong)
$10.95
+ 600ml Drink & 2 Cookies
$5.75

Fit Subs

Chicken Teriyaki (6 inch)
$8.20
Chicken Teriyaki (footlong)
$11.20
Ham (6 inch)
$5.80
Ham (footlong)
$8.95
Veggie Delite (6 inch)
$5.80
Veggie Delite (footlong)
$8.95
Chicken Strips (6 inch)
$8.20
Chicken Strips (footlong)
$11.20
Turkey (6 inch)
$5.80
Turkey (footlong)
$8.95
Roast Beef (6 inch)
$7.95
Roast Beef (footlong)
$10.95
+ 600ml Drink & 2 Cookies
$5.75

Premium Subs

Chicken & Bacon Ranch Melt (6 inch)
$8.95
Chicken & Bacon Ranch Melt (footlong)
$11.95
Steak & Cheese (6 inch)
$8.95
Steak & Cheese (footlong)
$11.95
Chicken Schnitzel (6 inch)
$8.95
Chicken Schnitzel (footlong)
$11.95
+ 600ml Drink & 2 Cookies
$5.75

Paninis

Mediterranean Veg Panini
$7.75
Pizza Melt Panini
$7.75
Chicken & Bacon Ranch Melt Panini
$10.10
Buffalo Chicken Panini
$10.10

Salads

Any 6-inch into a salad
$3.00

Extras

Bacon (6 inch)
$1.20
Bacon (footlong)
$2.40
Pepperoni (6 inch)
$1.00
Pepperoni (footlong)
$2.00
Avocado (6 inch)
$1.00
Avocado (footlong)
$2.00
Extra Cheese (6 inch)
$1.00
Extra Cheese (footlong)
$2.00
Double Meat (6 inch)
$2.00
Double Meat (footlong)
$4.00
Pineapple (6 inch)
$0.50
Pineapple (footlong)
$1.00
Beetroot (6 inch)
$0.50
Beetroot (footlong)
$1.00

Drinks

390ml Drink
$3.50
600ml Drink
$4.50
600ml Water
$3.50
Cup Drink (regular)
$3.00
Cup Drink (medium)
$3.50
Cup Drink (large)
$4.00
Smoothie
$5.95

Sides

Cookies (1)
$1.30
Cookies (3)
$3.20
Cookies (6)
$6.00
Cookies (12)
$11.00
Toastie (2 pce)
$3.00

Catering/Platters

Classic Subs (5-8 people, 5 footlongs in 15 portions)
$45.00
Classic Wraps (5-8 people, 8 wraps in 16 portions)
$45.00
Meat Feast Subs (5-8 people, 5 footlongs in 15 portions)
$49.00
Meat Feast Wraps (5-8 people, 8 wraps in 16 portions)
$49.00
Cookie Platter (36)
$29.00
Cookie Platter (12)
$9.90
Menu Updates
1 June 2019 – Added new range of Paninis to menu.
22 February 2019 – Removed Thpicy sub from menu.
17 January 2019 – Added Thpicy Buffalo Chicken sub to menu.
25 December 2018 – Removed $5 daily 6-inch sub deal from menu.
7 November 2018 – New Spicy Buffalo Chicken items added to menu. Six inch, footlong, wraps, and salad starting from $8.00.
Bread & Toppings On The Subway Menu
Sure, the main ingredient may still be the main ingredient, but what makes up the rest of your sub will determine how good it's going to be.
The bread and toppings you choose is a critical part in the sub formation process. Exactly the reason Subway's sub maker are called Sandwich Artists and not lunch makers.
You give them the full list of ingredients – and they'll work their magic and turn it into something beautiful.
Here's a list of the bread and toppings you can choose from:
Bread

9-Grain Wheat Bread
White Bread
HoneyOat
Italian Herbs & Cheese
Wrap
Multigrain Wrap
Rye

Cheeses

Pale Triangle Cheese
Mozzarella Cheese
Old English Cheese (just removed)
Swiss Cheese

Vegetables

Avocado
Capsicum
Carrots
Cucumbers
Lettuce
Onions
Jalapeno
Pickles
Olives
Beetroot

Sauces

BBQ
Chipotle Southwest
Garlic Aioi
Honey Mustard
Hot Chilli
Mayonnaise
Ranch Dressing
Sweet Chilli
Sweet Onion
Thousand Island
Tomato
As you can see, the combinations you can put together on the Subway menu are endless. So put your imagination to work and conjure up a sandwich worthy of King George The Second himself.
There's no excuse to settle for anything less.
Please keep in mind, some toppings aren't available everywhere and do cost extra (as in the menu above) – increasing the overall price of your sub. Just check beforehand to make sure you aren't surprised at the end.
The Best Sub Combos in Australia
Look, we get it. Everyone has their own particular way of putting together their favourite sub.
You may prefer Italian Herbs & Cheese Bread, whilst your friend may prefer white. If that is that case though, it's time to find a new friend.
Some of you may love it spicy and smother it in juicy jalapenos, whilst others whither at the thought of even a single one spicy vege in their mouth.
But with that being said, there are a few main ingredients which Australians commonly prefer over the others on the Subway menu.
Four in particular stand out:
Italian BMT
Meatball
Steak & Cheese
Chicken Teriyaki
These four main ingredients are consistently mentioned as some of the best when talking to people who regularly eat at Subway.
Of course, just because others prefer them, doesn't mean you have to.
If price is no factor, we recommend you trying out as many different subs as you can, choosing a few of your favourites, then sticking to them.
With many of the subs now available for $5 in the 6 inch format, we ask one question – why not give them all a shot?
Subway Vouchers & Coupons
Unfortunately, Subway generally don't distribute vouchers for use on their menu. But they do run regular promotions with some heavily discounted items for awesome value.
One of their best deals we've seen, is their $8 Sub of the Day Footlong and the $5 Everyday 6-inch Value Range. Both fantastic for breakfast, lunch, and dinner.
Subway themselves don't have a single page on their website where they display all the specials currently live. Technically, there is a page, but there's no mention or the deals available or the pricing on them. It just points to their social media channels. See it here.
If you like, you can keep up to date with them and any promos for the Subway menu on their socials:
Or, just head in store and see what's on special. We're sure a Subway isn't too far away.
About Subway in Australia
Yes, sub is short for submarine. How do we know? Because it was this exact phrase that started the eat fresh campaign more than 50 years ago:
Let's open a submarine sandwich shop
Those were the words than came from Dr. Peter Buck, a nuclear physicist (yep) talking to a younger college student. The idea was that Fred DeLuca would pay for his tuition by opening this shop.
He paid for it alright, and much more.
It all started out in Bridgeport, Connecticut, where they first started serving their made to order sandwiches under the store name of Pete's Super Submarines in 1965.
Word of their delicious sandwiches spread faster than Fortnite and just 9 years later, in 1974, they'd grown to 16 locations.
Over the next 40 years, franchising took off and there are now nearly 44,000 locations in 112 countries serving millions of hungry folks each day.
In Australia, there are approximately 1,400 Subway stores – all serving up their very reasonably priced 6-inch and footlong subs to anyone that asks.
Subway Australia continues to expand and reinvigorate their service to the local market, all while striving to maintain competitive pricing with the rest of the fast food chains.
If you have any questions about the Subway menu, or the pricing of their sandwiches – leave a comment below.
Disclaimer
We are not affiliated with the above goods/service/organisation in any way. Prices should only be used as a guide.