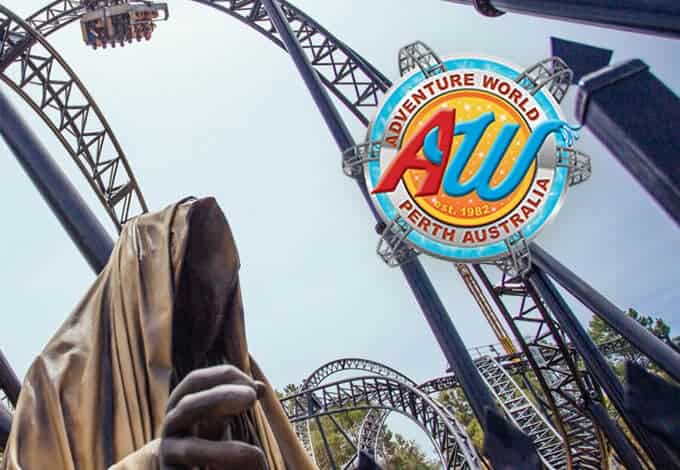 Adventure World is the biggest and most popular theme park in Perth. The rides and slides make it a fantastic place to spend a sunny day in Perth. Find out how much their tickets cost and more here.
Here are the latest ticket prices for Adventure World:
Ticket Type
Price

Day Tickets

Child (3 years or under)
Free
Child (4-13 years inclusive)
$49.50
Adult (14 years & above)
$59.50
Concession
$54.50
Seniors
$20.00
Family 2+1 OR 1+2
$149.00
Family 2+2 OR 1+3
$185.50
Family 2+3 OR 1+4
$227.00
Family 2+4 OR 1+5
$272.00

Season Pass

Child (3 years or under)
Free
Child (4-13 years inclusive)
$145
Adult (14 years & above)
$169
Seniors
$65
Family 1+1
$314
Family 2+1 OR 1+2
$449
Family 2+2 OR 1+3
$550
Family 2+3 OR 1+4
$610
Family 2+4 OR 1+5
$655
Family 3+1
$595
Family 3+2
$725

Platinum Season Pass

Child (4-13 years inclusive)
$285
Adult (14 years & above)
$230
Family 2+1 OR 1+2
$660
Family 2+2 OR 1+3
$790
Family 2+3 OR 1+4
$870
Family 2+4 OR 1+5
$925
[ps2id id='1′ target="/]What's a Platinum Season Pass?
It's a season pass (unlimited access to the park whenever it's open for the season) with a few more perks than just the standard season pass.
Here's a list of extra benefits you'll get with the Platinum Pass:
Two Free Fast Passes (skip ahead to the front of ride ques)
40% off Cabana Hire
50% off Entry Prices for 8 Friends
20% off Food & Drinks
20% off Official Merchandise
20% off Souvenir Photography
Express Member Entry
Free Entry into Fright Nights
If you think you'll enjoy any of those things – the Platinum Season Pass might be worth your while!
[ps2id id='2′ target="/]Where can you get cheap tickets
One of the best ways to get discounted Adventure World tickets is through RAC.
Over the past years, they've consistently provided their members with the options to buy day passes to the theme park at a cheaper rate than the standard. And the fantastic news is – you can signup today!
You don't even have to sign up to any of their products or services, you can just join the rewards program by itself. It costs just $29/year and you'll get access to a range of benefits and rewards you can use. One of them being Adventure World of course!
Click here to learn a little more about RAC's rewards program.
[ps2id id='3′ target="/]Do prices change depending on what time you go in?
Traditionally, all tickets bought after 2pm were massively discounted to entice adventurers to come in even though there is less time in the day to enjoy their rides.
However, the last mention of these cheaper tickets was back in 2014. So it's unclear whether or not they still do it.
Here's a snippet from their Facebook account of the deal:
[ps2id id='4′ target="/]A bit about Adventure World
Did you know – Adventure World is actually built on an old limestone quarry? Yep! And it took 380,000 tonnes of sand to re-shape the land to provide the initial landscape for the theme park. Here's an early promotional video with a bit more info on its construction?
1982 was the official open date of the park, where it was originally called Adventureworld at Bibra Lakes. The slogan was quite inviting as well:
We built it for you to have the adventures of a lifetime in a single day, just for fun.
Over the past few years, Adventure World has gone a roller coaster of a transformation, investing millions of dollars into new rides to bring back the excitement (and terror) of many of their fans.
In 2013, Abyss, a $12 million roller coaster was installed in the park. It was the latest and most advanced roller coaster in the country. It's even been called Australia's Best Roller Coaster by some big names, including Ed Dickinson, founder of the Australia Coaster Club. Here's a neat point of view of some fans taking the ride.
More recently in 2017, a Goliath of a ride reinvigorated the park once more. It's a stationary pendulum, that's anything but stationary. At its peak, you'll be 28 metres above ground, at an angle of 120 degrees – almost upside down. Grab a look at how it all goes down here.
Unsure whether you still want to go? This'll convince you:
[ps2id id='5′ target="/]Get in touch with them
If you'd like to get in touch with Adventure World, you can send them a message on the following:
Otherwise, feel free to give them a call on 9417 9666. Or, you can send them a message on the contact form here.
Conclusion
All in all, if you're looking for a bit of thrill riding on some fantastic rides, to enjoy yourself on some wonderful slides, or just to relax is the warm Perth sun, Adventure World's the place to be.
Head down and enjoy the water with a day pass, or grab a season pass and head down whenever you feel ike it. Now you know how much their ticket costs, you won't have to worry about their prices anymore.
If you have any more questions about Adventure World or their prices, let me know in the comments below.
Disclaimer
We are not affiliated with the above goods/service/organisation in any way. Prices should only be used as a guide.