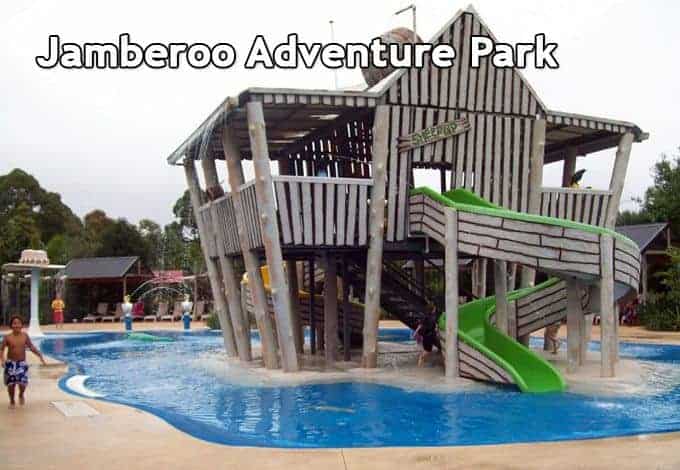 Located just south of Wollongong in New South Wales, Jamberoo Adventure Park comes in as one of the highest rated theme parks in Australia. Their Facebook page has over 2,100 reviews, of which more than 1,400 of them are 5 stars. Impressive stuff.
If you're travelling down from Sydney, travel time is around 2 hours on the cushy side. Pushing the limit and you can maybe make it there in 1 hour and 30 minutes depending on the traffic.
Of course, if you're thinking about heading down, you'll want to know how much it's going to cost you, your family, and your mates.
Here are the latest entry prices to Jamberoo Park:
Jamberoo Adventure Park Prices
Age
Price

Entry Prices for Jamberoo

Children (<3)
Free
Children (4-12)
$54.99
Adults (13+)
$64.99
Seniors (60+)
$54.99

Season Pass Prices for Jamberoo

Early Bird Season Pass (bought before August 31st)
$119.99
Early Bird Season Pass (bought after August 31st or purchased at the park)
$139.99
Price Updates
June 2018 – Prices for the 2018/2019 Summer Season will be available in September 2018.
Please note the prices above are for the 2016 season. Prices for the 2017 season will be available on September 1st. With that being said, you can expect them to be priced quite similar to last years.
Season Pass Perks
As you can see, if you're thinking about visiting Jamberoo more than two times of the 2017 season, you'll be saving a huge amount of money by planning ahead and getting a season pass.
Not only will it pay for itself after the 3rd visit, but there are a huge number of perks with come with it.
Here's to name a few:
Free entry to all Dive-In Movies (every Saturday from 30th-Dec to 27th-Jan)
$10 off your total bill for two @ Steamers Bar & Grill in Wollongong
Free entry to the GIANT Easter Egg Hunt on 1st April 2018
Full benefits can be found on their website (link below).
Purchasing Your Tickets
There are two ways to buy your tickets – at the park or online.
We all know the process of buying tickets at the counter. Practically the same at the movies: get there early, still have to wait in line, get to the counter, buy your tickets, enjoy the activity.
If you buy online you get to skip the having to get their early, skip the waiting in line, and skip the hassle at the counter.
Tickets purchased online will be sent to your email and/or smartphone. Once at the park, you can head to the fast entry area where they will scan your e-tickets upon entry. Much easier, and more time to enjoy all the rides in the park.
From what we're aware of, there aren't any discounts for pre-purchasing your tickets online. Although we'll have to wait for the new season's ticket prices to be released to confirm.
Reviews
You may be thinking to yourself that the prices are a bit on the steep side, and you aren't alone. Compared to other parks in the country and the number of rides they have, Jamberoo's prices are on the higher end of the spectrum.
But after taking the time to read a few of the reviews, we found many people thought it was absolutely worth it.
Here's a few we found:
Was a brilliant day at jamberoo water park! At first I fought it was quite pricey considering there's not loads of rides but was pleased to say it was well worth it! Rides are fantastic.Would choose jamberoo over wet and wild any day! – Tara Olsen

Visiting from Adelaide where we don't have any theme parks. I was a bit hesitant at the price but nothing ventured, nothing gained hey, so along we went.
We had an amazing time, couldn't really fault anything. Having been the the theme parks in the Gold Coast, this is worlds ahead. – Kristy Rowe

Initially thought the ticket price was a bit steep but with the huge range of activities and rides it was great value! A few new additions since I last visited. Loved The Perfect Storm, and Banjos Billabong is excellent particularly for a quick cool down. Thanks for a great day. – Tracy Higgins
As you can see, more than a few visitors were initially put off by the above average prices, but they soon understood the reasoning behind them once they got inside.
Have Fun
All in all, Jamberoo Adventure Park is a great theme park, one of the best in Australia. We hope you do take a trip down and have an absolutely awesome day!
If you have any further questions about the park or the prices, let us know in the comments below. We'd love to hear what you're thinking.
For further information or to purchase tickets online, please visit their official website.
Disclaimer
We are not affiliated with the above goods/service/organisation in any way. Prices should only be used as a guide.