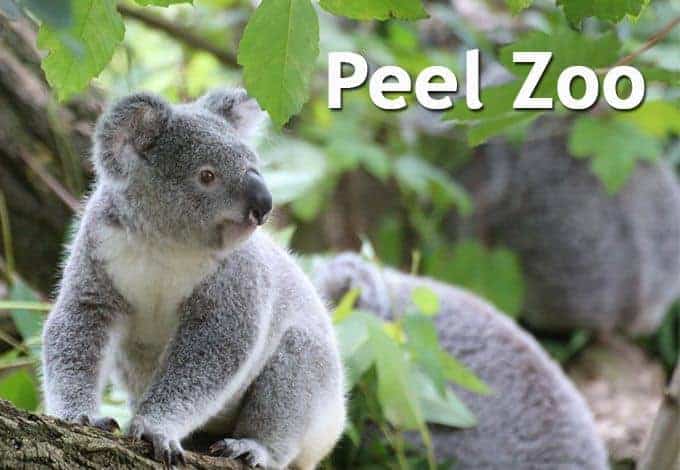 Located around 60km directly south of Perth, Peel Zoo calls the region of Pinjarra their home. They are a privately funded zoo with one of their main purposes to be the best boutique zoo in the country.
Of course, no matter how much funding a zoo receives, most still require patrons to pay for admission into their parks. Peel Zoo is no different.
With that in mind, here are the current entry prices for Peel Zoo:
Peel Zoo Prices
Age
Price

Entry Ticket

Children (3-15)
$12.00
Adult (16+)
$23.00
Seniors (valid ID required, Australians only)
$17.50
Family (2 adults, 2 children)
$60.00
Price Updates
June 2018 – Prices have not changed since Aug 2017.
Prices have slightly decreased over the years, and as you can see today, entry into the zoo won't take too much out of your wallet.
*There are discounts available for group bookings, so make sure to give them a call beforehand on (08) 9531 4322 to see if you can grab yourself a bulk discount.
About Peel Zoo
Similar to the Tasmanian Zoo, one of Peel Zoo's most prized programs is their Tasmanian Devil breeding initiative. The wild population of the species has dwindled dramatically over the years due to an incurable facial tumour disease.
Hopefully, with the help of conservation efforts like that of Peel Zoo's, we will see their numbers rise back up, ensuring their long term future. They are open most days, so you'll be able to head there and see them at a time that suits you best.
Here are their openings hours:
Peel Zoo Opening Hours
Day
Time

Opening Hours

Monday - Friday
10:00am - 4:00pm
Saturday - Sunday
9:00am - 5:00pm
Public Holidays
9:00am - 5:00pm
School Holidays
9:00am - 5:00pm

Please note admission to the park closes 1 hour before closing time.
One of the main differences between Peel Zoo and numerous other around the nation is the amount of 'hands on' you'll be able to experience.
Animal Encounters
As mentioned, they have a number of up close and personal experiences you which can add on top of the traditional zoo experience. These are a great way to take a day at the zoo to the next level.
Think about it – why simply watch the animals from afar when you can talk to them, feed them, and of course, cuddle them (depending on the animal).
Animal encounters can be booked in advance via their website (link below). This way you'll almost guarantee a spot on the day. We say almost because, unfortunately, there are some unseen circumstances which may affect the experience on the day.
Here are all the encounters currently on offer:
Peel Zoo Animal Encounters
Animal
Price

Animal Encounters

Dingo
$40pp
Squirrel Glider
$15pp
Koala
$25pp
Big Birds (Cockatoo, Eclectus Parrot)
$15pp
Macaw
$25pp
Olive Python
$10pp

Participants must be 6yrs+. Those under 15 must be accompanied by an adult. Full details on site.
There are a number of terms and conditions. Here are a few of the more important ones:
Encounters may be cancelled on short notice
All interaction will be instigated by the animal
Prices do not include admission to the zoo
Membership Options
Who are we to say a single day at the zoo is enough? We know there are some avid animals lovers out there who simply can't get their animal fix with a single visit.
Thankfully, Peel Zoo knows your struggle. If you're looking to head to their zoo on regular occasions throughout the year, they have a great annual pass option for you to take advantage of.
Not only will you be granted unlimited free entry into the zoo, a number of extra perks come with it.
Here's to name a few:
10% off all souvenir items in the gift shop
10% off all animal encounters
Bringing a friend? They'll get 10% off their admission if they come with you
Full benefits of an annual pass can be found on their website. But, for now, here are the prices:
Peel Zoo Annual Pass Prices
Age
Price

Annual Pass

Child (3-15)
$50
Adult (16+)
$85
Family (2 adults, 2 children)
$180

All passes last 12 months.
The prices here are in-line with what other zoos are charging. Mogo Zoo, on the east coast of Australia, also offer membership packages – check out how their prices compare here.
Head Down And Have Fun
As we come to the end of the article, we hope you've left a little bit wiser than you entered. Peel Zoo offers an amazing range of animals on show, as well as exclusive opportunities to get face to face with some absolutely delightful creatures.
Pictures will be taken, memories will be formed, and of course, fun will most definitely be had. And with the entry prices as reasonable as they currently are, you're wallet will be leaving with a smile on its face as well (if it had one).
For further information please visit their official website.
Disclaimer
We are not affiliated with the above goods/service/organisation in any way. Prices should only be used as a guide.