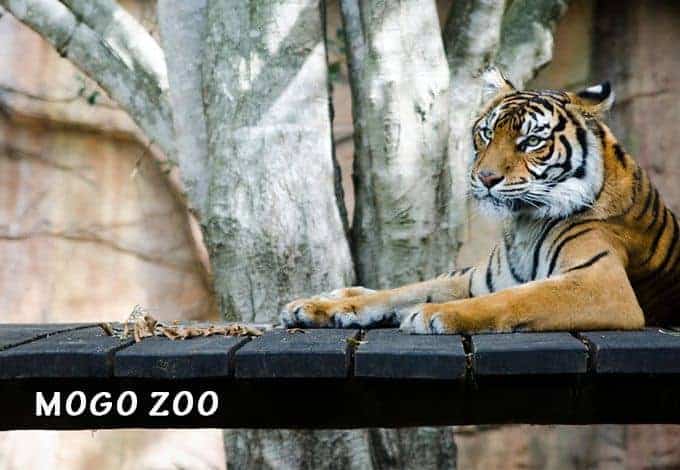 Situated around 200km down the coast from Sydney, you'll find Mogo Zoo one road off Princess Highway on Tomakin Rd – number 222 Tomakin Rd to be exact. If you're thinking about checking the zoo out, you'll likely what to know how much it's going to cost.
There are a number of different pricing options as well as extra activities and events you can pay for once you're down there.
But first, let's kick it off with the standard entry price into Mogo Zoo:
Mogo Zoo Prices
Age
Price

Entry Ticket

Children (3-15)
$17.00
Adult (16+)
$32.00
Family (2 adult + 2 children)
$92.00
+1 Extra Child
$14.00
Seniors (valid ID required)
$26.00
Students (valid ID required)
$26.00
Price Updates
June 2018 – Prices have not changed since Aug 2017.
There you have it – extremely reasonable pricing for the 46+ exotic animals and a total of more than 200 animals you'll be able to witness. And let us tell you, witnessing is only the beginning at Mogo.
One of the main attractions luring more and more visitors each year are the 'Up Close & Personal Encounters'. You won't believe some of the experiences their team have lined up for you.
Here's to name a few:
Feed a Tiger – $150 for 2 people
Feed a Lion – $150 for 2 people
Play with Meerkats – $100 for 2 people
Yep – you can feed the biggest cats in the world. Further details can be found on their website (link below).
The Ultimate Experience
Can't decide which animal encounter is the right one for you? You don't have to. You can choose them all.
Take your leisurely time and spend 4 hours getting face to face with some of the cutest, adorable, powerful and magnificent animals Mogo has to offer.
$550 will let you take part in this once-in-a-lifetime experience which includes some wonderful morning tea treats at their highly rated Tumbili café.
Zoo Membership
Similar to many other zoos in Australia, Mogo Zoo offers a membership program which you can purchase to receive a number of discounts on the extra activities the zoo offers.
Not only that, following your 3rd visit to the park, the membership will have already paid for itself. It lasts for a year and you can visit as many times as you like. Best of all, all your visits are completely free!
Here are the current prices for a membership:
Mogo Zoo Membership Prices
Age
Price

Memberships

Children (3-15)
$45.00
Adult (16+)
$89.00
Family (2 adult + 2 children)
$185.00
+1 Extra Child
$30.00
Seniors (valid ID required)
$65.00
Students (valid ID required)
$65.00
And a few of the discounts you'll be entitled to:
Up to 10% off animal encounters, gift shop purchases, and café purchases.
Discounts and/or free entry to some of their locally famous events throughout the year
If a membership isn't for you, maybe you know someone who'd love it instead. Mogo understands this and have wisely provided the option to purchase a membership as a gift for someone else as well.
Animals At Mogo
If there's one thing zoos wouldn't exist without, it's the animals they house.
Not only do zoos provide us with an avenue to get up close and personal with some normally terrifying animals, they play an important role in revitalising endangered species. Which is exactly what Mogo is all about.
One of their main purposes as a zoo is to provide world class facilities for some of the most endangered animals in the world.
Here are a few of the animals waiting for you:
Across their 81 acres of land, they also house the largest collection of primates of any Australian zoo.
Have Fun!
We know you don't need any more convincing, but we decided to take a look at a few reviews of the zoo and wow – their customers are raving.
Here are a few reviews from their Facebook page:
Great little zoo. Plenty to see, and interactive fun for all. Spaced out well, but not too much so it kept us interested. The zookeepers talk on the lions was okay, but must keep in mind you are dealing with kids, not just adults. So talk appropriately. Worth going again, and will recommend to others. – Matthew Riley

What an awesome place to visit. Having the Meerkat up close and personal encounter was the best experience I have ever had. They are all so cute. Can't wait to go back and have one with the Red Panda's  – Sharon Gibbins

I have been to Mogo Zoo many times and each time is as wonderful as the last  – Bec Fletcher
What are you waiting for?! Get packing, get in your car, and head down to Mogo Zoo. With the current prices on offer, you're definitely getting more than your money's worth.
*Opening Hours are 9:00am – 5:00pm, 7 days a week. The single day the zoo is closed is on Christmas Day.
For further information and detailed description of all the animals at the zoo, please visit their official website.
Disclaimer
We are not affiliated with the above goods/service/organisation in any way. Prices should only be used as a guide.