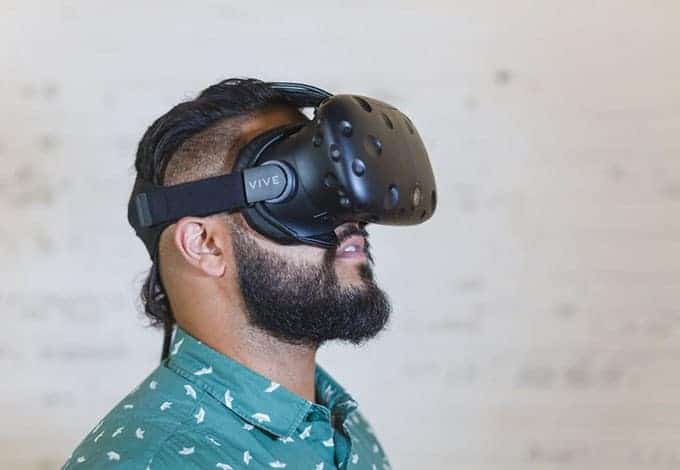 Find out how much the HTC Vive headsets cost in Australia. We have prices for all the versions of the Vive including the HTC Vive Pro and HTC Vive Cosmos. If the Vive is a bit too expensive, check out the Oculus Rift instead.
Here's the latest price for the HTC Vive in Australia:
Product
Price

HTC Vive Headsets

HTC Vive Focus
$999
HTC Vive Focus Plus
$1,299
HTC Vive Cosmos
$1,299
HTC Vive Pro (standalone)
$1,279
HTC Vive Pro Kit
$2,199
HTC Vive Pro Eye Kit
$2,499
HTC Vive Pro Kit (McLaren Edition)
$1,999
HTC Vive Headset Kit
$939

HTC Vive Accessories

Vive Deluxe Audio Strap
$169.99
Vive Wireless Adapter
$479
Vive Nose Rest
$22.99
Vive Tracker (2018)
$169.99
Vive Standard Strap
$29.99
Vive Face Cushion (set of 2)
$39.99
Vive 3-in-1 Cable
$64.99
Vive Base Station
$199.99
Vive Racket Sports Set
$89
Vive Controller
$199.99
Vive Racket Sports Set with Vive Tracker
$219
Vive Link Box
$43.99
Vive USB Extension Cable
$11.99
Vive Mini DisplayPort to DisplayPort Cable
$23.99

HTC Vive Pro Accessories

Vive Pro Face Cushion Set
$95
Vive Pro Wireless Adapter Attachment Kit
$99
Vive Pro SteamVR Base Station 2.0
$329
Vive Pro Narrow Face Cushion
$79.99
Vive Pro PU Leather Face Cushion (2 pcs)
$75.99
Vive Pro Link Box
$86.99
Vive Pro Controller (2018)
$310
Vive Pro Wireless Adapter
$578
Vive Pro Tracker (2018)
$169.99
Vive Pro Headset Cable
$119
Vive Pro Mini DisplayPort to DisplayPort Cable
$23.99
Vive Pro Racket Sports Set
$89
Vive Pro Racket Sports Set with Vive Tracker
$219

HTC Vive Cosmos Accessories

Vive Cosmos Wireless Adapter
$578
Vive Cosmos Wireless Adapter Attachment Kit
$99
Vive Cosmos Face Cushion (Set of 2)
$109
Vive Cosmos PU Leather Cushion Set
$94
Best Place To Buy Vive In Australia
There are plenty of brick-and-mortar stores where you can pick up either the HTC Vive Pro or just the HTC Vive. Whether you're in Melbourne, Sydney, Perth, Brisbane, Adelaide, Darwin, or Hobart, there's likely a store selling a headset near you.
Large electronic retailers such as Harvey Norman gaming stores such as EB Games will most likely stock both, but they will be priced quite a bit higher than if you bought if online. Make sure to give them a call beforehand to avoid disappointment.
The best place to pick up the Vive Pro or just the Vive would be from a dedicated computer store. PLE Computers (one of the fastest growing computer retailers in Australia) stock the Vive and Vive Pro at a fairly reasonable price.
Umart are also a good option. They have retail stores in QLD and NSW (so you can order online and pickup ASAP) or you can get it shipped right to your door.
Lastly, Amazon Australia are starting to compete more and more in the electronics market. They have quite a few packages and bundles of the HTC Vive in stock so you can get setup and into the virtual world as fast as possible. This one is their most popular – HTC Vive Pro Headset.
Since prices on Amazon tend to change quite often, you can get some good deals on there. You just have to keep an eye on the latest listings and you might just get yourself a VR headset for a bargain. So if you're in the market for a HTC Vive headset, that's a good way to go about getting one.
Which HTC Vive Should You Get?
If you're looking to get into the virtual reality world and price is not a factor, go for the HTC Vive Pro. Yes, it costs more, but does so for a reason. It's got all the bells and whistles, a higher resolution, better tracking, an in-built sound system, and an integrated microphone (so you can chat with other gamers in the virtual world).
However, at nearly $2,000 for HTC Vive Pro Kit, it may be out of reach for some of you. If that's the case, I'd recommend you to also take a look at the Oculus Rift (one of HTC Vive's biggest competitors). The Oculus Rift is priced much lower at around $550 and can offer a very similar virtual reality gaming experience.
However HTC has release a couple of more affordable and newer versions for their VR headset. The Vive Cosmos is priced much more reasonable than the HTC Vive Pro at around $1,300 which however still is a lot more expensive than the original HTC Vive. For that you get an 88% higher resolution compared to the original Vive at 2880×1700 pixels. New LCD panels minimize the distance between pixels as well as the so-called 'screen-door' effect.
The HTC Vive Focus is more geared towards enterprises or education rather than gaming. It is an out-of-the-box VR experience and a more affordable entry point for enterprise VR than the HTC Vive Pro.
What Games Can You Play On The Vive?
The HTC Vive is powered by the Steam VR Gaming platform. Steam is the largest PC gaming platform in the world, with nearly 90 million users gaming with it every month.
You'll find hundreds of VR games available for HTC Vive in Steam, both free and paid. Gaming titles range from action shooters, zombie survival, adventure, to more family friendly genres such as casual, sports, and simulations.
Fruit Ninja, Skyrim VR, and Rick and Morty: Virtual Rick-ality are some of the top selling titles on Steam VR in 2019.
Here are some more big titles coming out in 2019:
A little bonus clip for you to show you that anyone at any age can enjoy virtual reality:
If you do want to play the latest and greatest VR games with the HTC Vive on your computer, you'll want to make sure it meets all the minimum requirements at the least. I'd always recommend getting the best hard drive possible as well (high-end SSD) to make your gaming as smooth as possible. If you're not too sure which hard drive to get, see here for the hard drive prices in Australia and which one to buy.
Conclusion
Virtual reality is still a relatively young industry, but it's come a long way in a short amount of time. Expect to see more massive leaps in virtual reality over the next few years, both in gaming and other applications.
The HTC Vive is one of the leading brands of VR headsets on the market today. It's slightly unfortunate that the high price for the HTC Vive Pro puts it out of reach for many people wishing to enter the virtual world.
However HTC now offers the Vive Cosmos as a more affordable upgrade to their original HTC Vive.
If you have any more questions about the HTC Vive Pro, Vive Cosmos or the original HTC Vive prices, how much they cost, or what you can play on them, let me know in the comments below.
But as a VR nut that preordered the original HTC Vive, I can honestly say that I have never looked back and regretted getting one.
Disclaimer
We are not affiliated with the above goods/service/organisation in any way. Prices should only be used as a guide.