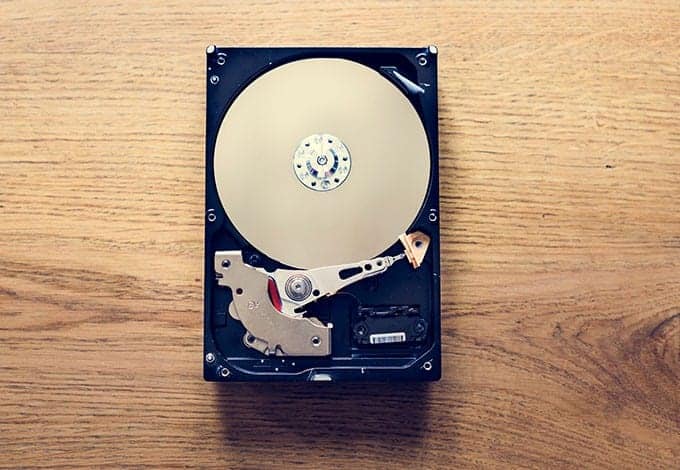 Take a look at all the up to date hard drive prices in Australia. See the prices for external hard drive, SSD's, internal standard hard drives, and all the different sizes.
Here's the latest hard drives prices for Australia in 2019:
Hard Drive Size
Price

External Portable (2.5") Standard Hard Drives

1TB
$80
2TB
$100
3TB
$140
4TB
$180

External SSD (2.5") Hard Drives

120GB
$100
250GB
$130
500GB
$200
1TB
$350
2TB
$600

Internal Standard (3.5") Hard Drives for Desktop

1TB
$80
2TB
$100
3TB
$140
4TB
$170
6TB
$300
8TB
$400
10TB
$600
12TB
$700

Internal SSD's (2.5") for Laptop & Desktop

120GB
$60
250GB
$100
500GB
$120
1TB
$300
2TB
$500
4TB
$1,000
Price Updates
3 February 2019 – Updated all prices for hard drives to reflect changes in 2019.
Where's the best place to buy a hard drive?
There are plenty of different stores, both online and brick-and-mortar where you can buy hard drives from. Nearly all retailers that sell laptops and desktops will also stock all the different types of hard drives. Think JB Hi-fi, Officeworks, Harvey Norman, The Good Guys, even Myer and David Jones (but they'll likely only have portable external hard drives).
Sure, it's pretty convenient to just head down to one of their stores and buy a hard drive, but it's probably not the best place to get one. Instead, I'd recommend heading online and purchasing whatever hard drive your after from a dedicated computer store.
Some of the best stores to buy from, in terms of hard drive prices, customer service, and range of hard drives, is Umart, PLE, and Amazon. Amazon have grown quite rapidly since their launch in 2017 so they're a viable option to buy computer hardware from these days.
PLE is one of the most highly rated computer stores in the country and have some of the best hard drive prices around. You can see all their hard drives here.
Umart is also one of the customer favourites, ranking themselves as 'Australia's No. 1 Computer Store'. They also have a wide range of hard drive available at great prices.
Lastly, Amazon's ever increasing range of hard drives is winning over market share quite fast. It's no surprise since they've got great prices for them as well.
PLE & Umart do have a few retail locations around the country as well, so you can buy online and pick it up the same day (if available). Otherwise, shipping is relatively cheap and your hard drive should arrive at your door in no time.
What brand of hard drive should you buy?
Just like TVs, kitchen appliances, and almost any other type of electronic, there are plenty of different hard drive brands out there to leave even some of the experts pondering which one to buy.
Generally, all you want your hard drive to do is come with the amount of hard drive space is says it's going to have, and not break down in a year or two. In saying that, some of the most reliable brands include Seagate, Western Digital (WD), Intel, and Samsung.
On the other hand, some brands I'd recommend staying away from include Toshiba, HyperX, and LaCie. This is based off my personal experience using many different hard drive brands over the years and the countless hours of researching and reading reviews from others who've bought them.
Yes, the more reliable brands will cost a bit more, but think about it like this. If your hard drive died in a year from now, would you look back and think to yourself "I wish I'd pay that extra $20". It's worth paying for reliability, especially when you could be storing very important documents, photos, and videos on it.
For example, with the price of Tesla cars as they are, they would've definitely used the highest-end brand of SSD when they were planning on fitting their cars with storage units. In the end, they went a different route and decided not to store anything on the car, but rather send it all back to the Tesla HQ where they can analyse it all.
3 hard drive buying tips
Know what you're going to be using the hard drive for
By knowing what you'll be using the hard drive space for beforehand, it'll help you pick whether you'll be better off with one of the faster SSDs or a traditional hard drive.
If you're going to be using files on the drive everyday for work, transferring files back and forth consistently, or using it as a main computer hard drive, go for an SSD. They're lightening speeds will save you so much time it'll pay off itself within a month.
Another example would be if you're going to be diving head first into the latest VR gaming technology. Both the Oculus Rift and the HTC Vive are priced almost as much as some hardware themselves – so you don't want to be bottle-necking (when one component holds back the overall performance of your system) your gaming experience with a cheaply priced hard drive.
Here's a short video with a more in-depth explanation:
Otherwise, if it's just going to be for storage such as archived files, movies, or music, then a traditional hard drive is probably the way to go. I'd always recommend getting a 7200RPM drive over an 5400RPM as well.
How much space are you going to be using
There's no point getting a 4TB hard drive if you're only going to use 1.5TB of space…that's just a waste of money. 4TB is a lot of space as well. A lot! Hardly anyone will use up a 4TB hard drive, unless they're storing thousands and thousands of movies.
Here's a table showing just how much hard drives can hold:
| Hard Drive Size | Movies | Photos | Songs |
| --- | --- | --- | --- |
| 1TB | 500 hours | 310,000 | 17,000 hours |
| 2TB | 1,000 hours | 620,000 | 34,000 hours |
| 4TB | 2,000 hours | 1,240,000 | 68,000 hours |
| 6TB | 3,000 hours | 1,860,000 | 102,000 hours |
| 12TB | 6,000 hours | 3,920,000 | 204,000 hours |
Whether you want it to be portable
Portable hard drives may cost a little more in price and transfer data slightly slower, but they're portable, and that could be a massive positive for you.
If you've got more than one computer, or think you'll be storing things on the hard drive that you may share with others at a later date, it's probably worth forking out a little more cash to get a portable drive in the beginning.
Nothing's worse than only having internal drives and having to take apart your computer to transfer the files to another device (if the files are too big for a USB).
How much did hard drives used to cost?
Unsurprisingly, hard drive prices used to be quite a bit higher than they are today. As with many other types of hardware such as CPUs, GPUs, and RAM, prices have almost exponentially decreased over the past decade.
Our friends over at Backblaze, one of the largest data backup solutions in the world, as you can guess, has been buying hundreds of thousands of hard drives over the years. And they've been tracking it all.
Based on their case study (found here), here's how the cost of hard drive space has declined over the past decade:
Notes:
Prices above are based on per gigabyte, not for a standard size of a hard drive
Backblaze is a wholesale hard drive purchaser, meaning consumer prices will be slightly higher
Thailand is one of the largest hard drive manufacturers in the world, and the flood in 2011 which halted production, drastically increased the short term cost of hard drives
Conclusion?
Hopefully after reading the above guide you're a little more in the know about which hard drive to buy and where to buy it from.
If you have any other questions about hard drive prices or which one to get, let me know in the comments below.
Disclaimer
We are not affiliated with the above goods/service/organisation in any way. Prices should only be used as a guide.