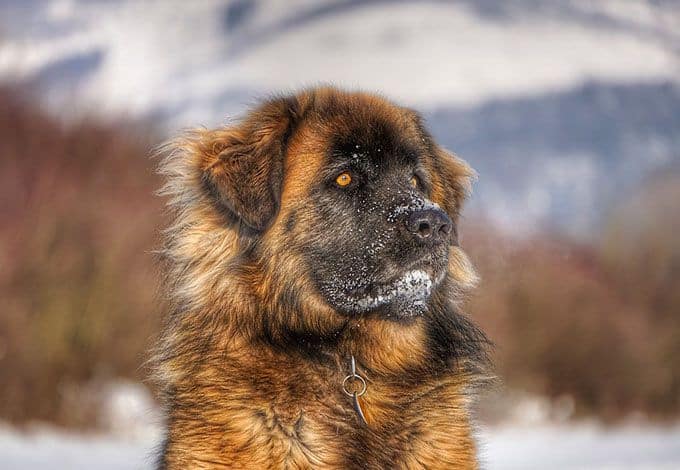 Leonberger – one of the most magnificent beasts of the dog world. No wonder you're looking up how much they cost, who wouldn't want one?!
A brief bit of background on the Leonberger – they are a mix of Newfie, the long haired version of a Saint Bernard, and the wondrous Great Pyrenees. As you likely already know, they are a jumbo-sized breed. Reaching up to 75cm in height and coming it at around 70kg once fully grown.
We did a bit of research and have come up with the following price guide for the Leonberger breed:
Leonberger Price
Type
Price

Leonberger Dog Breed

Local Puppy Breeder
$2,250
Local Puppy Breeder (high quality)
$3,000
Imported Puppy
$2,750
Aged Dog
<$1,500
Price Updates
June 2018 – Prices do not seem to have changed over the past 6 months.
As mentioned in the disclaimer, the prices in the above table should be used as a guide only.
The Leonberger breed isn't readily available at your local pet store and can't be picked up the next day. This dog is bred by specialists under strict conditions if they are professionals.
As such, the price is considerably higher than other dog breeds which you commonly see around your suburb.
How To Choose A Breeder
By far, the single most important factor when choosing your breeder is the organizations and associations they are a part of.
Two of the most reputable associations include the Australian Association of Pet Dog Breeders (AAPDB) (link) and DogzOnline – Australia's Pure Breed Dog Community (link).
If you managed to find a breeder and they aren't with either of those or any other breeding association, think very carefully before purchasing your Leonberger from them.
Unless you spend a significant amount of time inspecting their operations, you have no idea how they treat their dogs, or what kind of ethics and morals they hold in their breeding program.
Similarly, if you do happen upon a breeder with previous experience in the field, as if you can speak with people who have already purchased a dog from them. This is an extremely easy way to make sure the quality of the dog is what they're saying it is.
Good Luck
The price of the dog should not have an influence over your decision to which breed you get. This is not a toy you'll play with for a week, not even for a couple of months. You're adding another member to your family for years to come.
Leonbergers aren't easy to come by, nor are they common. As such, the price of a puppy or aged dog of their breed can be quite significant.
Thank you for taking the time to learn a little more about the pricing behind this wonderful breed. If you have any further questions or comment, let us know down below.
Disclaimer
We are not affiliated with the above goods/service/organisation in any way. Prices should only be used as a guide.