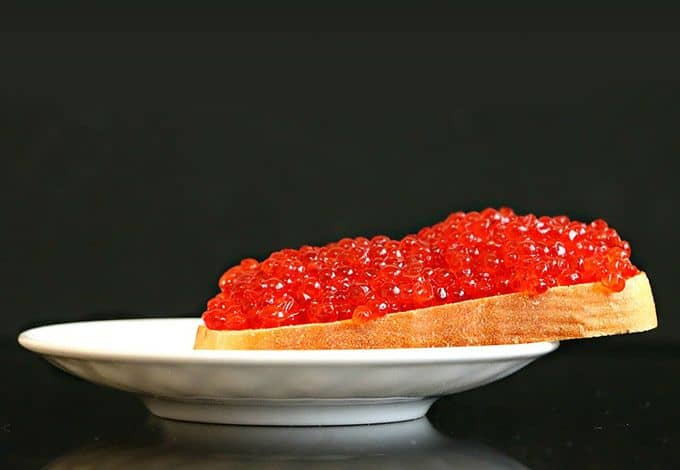 No doubt, one of the world's most exquisite and exotic foods available on the market today is Caviar. Of course, with that exquisite status comes a price ranging into the thousands of dollars. Here are the latest Caviar prices.
Here are the latest prices for different types of caviar in Australia:
| Type | Price |
| --- | --- |
| Black Caviar (Swedish Lumpfish) | $120/kg |
| Black Caviar (Baeri) | $2,500/kg |
| Black Caviar (Russian Oscietra) | $4,150/kg |
| Black Caviar (Iranian Beluga) | $10,100/kg |
| Red Caviar (Mediterranean Sturgeon) | $400/kg |
| Gold Caviar (Imperial) | $3,150/kg |
| Gold Caviar (Russian Osetra) | $4,500/kg |
Caviar Price Updates
November 2019 – No significant price changes in the last 6 months
November 2018 – Prices seem to have slightly increased in a few stores such as Woolworths and Coles.
June 2018 – Prices remain steady throughout Australia.
What is Caviar?
Caviar is an exquisite delicacy consisting of salt-cured roe (fish eggs). In particular, the fish eggs that make caviar come from the Sturgeon fish family.
Traditionally, Caviar use to only refer to roe from Sturgeon native to the Caspian Sea and a few other areas. Unfortunately, the high value of the delicacy has led to massive over fishing, causing an exponential decline in the fish numbers. Fishing bans have been put in place, but seem to be ineffective with the locals.
Today, the rarest and most expensive type of caviar from the Beluga Sturgeon, now a critically endangered species. Beluga can grown up to 5m long, with the typical range being 1.4m – 3.3m and weighing up to 264kg.
Caviar is usually eaten as a garnish or as a spread. One of the most recognisable ways to prepare the food is to make it into sushi.
What Determines The Price And Why Is Caviar So Expensive?
As you can see from the table above, there are a number of different varieties of caviar you can dine on. And now you also know the price of the caviar can vary wildly depending on the type.
The Beluga for example – will set you back $10,000+/kg. I can almost guarantee you'll be cherishing every single bite you take of it at that price.
It's worth noting, however, that caviar is rarely sold in kilograms. Usually, cans of the treat will be available anywhere between 30g and 250g. I've priced it per kilogram simply easier comparibility.
But what exactly determines how much caviar is going to cost? Let's have a look.
Rarity
By far, the most important factor when it comes to pricing the caviar is how hard it is to come by.
The only 'true' form of caviar comes from the Sturgeon fish – either Beluga, Osetra, or Sevruga. Today, the largest remaining population of these fish lie in the Caspian Sea.
Russia and Iran border the sea, among a few other countries, who've more than taken advantage of their strategic locations, spending plenty of time in their boats fishing for Sturgeon. However, as demand increased, the supply started to dwindle.
Today, Sturgeon farms have started popping up in numerous locations around the world including China, Italy, and the United States.
But these all require effort, and more importantly, a great amount of time.
Time
It can take up to 20 years for the Sturgeon to reach its maximum size. Requiring a lot of patience for those waiting to eat its roe.
Other fish, however, start producing their roe much quicker, and in a higher quantity. Hence the price is less for these types of caviar (see the Swedish Lumpfish price above).
Storage
As a perishable product, caviar requires quite precise storage solutions in order to keep the product fresh and delicate.
Slight changes in the external environment can quickly turn the dining delight into a monstrous mess. Trust me, you don't want that to happen.
With such requirements needed to keep caviar from spoiling, a cost must be put on the process as well. And it's taken into account when determining the final selling price.
Overall
Altogether, the price of caviar is composed of a variety of factors with rarity, time to production, and storage requirements all included.
Typically, the arer the caviar, the more expensive it will be.
Where Can You Buy Caviar?
Supermarkets
If you're thinking about heading down to your local Coles or Woolies and picking up some $10,000/kg caviar – sorry to say, but that's likely not going to happen.
According to their online shopping portals, both of the supermarket giants only store the cheapest priced caviar on the list above – the Lumpfish Caviar. Click here to check out Coles' selection, and here for Woolworths'.
Local Butchers
If you are after the caviar on the rarer side, head to your local butcher instead, and you may be pleasantly surprised. Unfortunately, not many local butchers advertise their whole selections of goods online, so I can't guarantee whether yours will have some or not.
Your best bet is to simply give them a call and check in beforehand. Save yourself the hassle of a trip only to be disappointed.
Specialty Stores
Lastly, and likely the only way to purchase the most expensive caviar, is through specialty stores.
Here are a few of the popular ones:
These guys are experts in their industry – so no need to worry about shipping. They've got it covered. Although, you'll want to make sure it's delivered to you in person (rather than left outside), gotta keep it cold to preserve the freshness.
You certainly don't want to be spending all that money only to have a rotten pile of fish eggs waiting for you at your door.
Amazon
Amazon offers an incredible and ever growing range of products – no wonder you can also buy all kinds of food from them. And of course you can also buy caviar on Amazon!
Conclusion
Thanks for taking the time to learn a little more about caviar in Australia, how much it costs, and what determines the price of it.
If you have any other questions about the delicacy, let me know in the comments below.
Disclaimer
We are not affiliated with the above goods/service/organisation in any way. Prices should only be used as a guide.